Learning EYFS
***The Early Years Foundation Stage Curriculum***
The Foundation Stage is a National Curriculum that all children follow from the age of 3 years to the end of their Reception year at Primary School.
There are 7 areas of learning:
Personal, Social and Emotional Development - Making relationships, Self-confidence and
self-awareness, Managing feelings and behaviour.
Communication and Language - Listening and attention, Understanding, Speaking.
Physical Development - Moving and Handling, Health and self-care.
Literacy - Reading, Writing.
Mathematics - Numbers, Shape space and measure.
Understanding the World - People and communities, The World, Technology.
Expressive arts and design - Exploring and using media and materials, Being imaginative.
Our Outdoor Area
Our outdoor play areas are Bob's Yard, The Active & Exploration Area, Woodland.... which includes a Mud Kitchen and Our Garden.
We play outside in all weathers; sunshine, rain and snow! We ask that your children wear clothes suitable for the time of year. A waterproof coat and trainers are necessary. We have wellies and all-in-one wetsuits for wet days.
Children benefit from fresh air and vitamin D which is found in the sun light and is essential for growing bodies. Playing outside gives a sense of freedom and release that young children love. It gives them opportunity to practice big movements that will help with future writing skills.
Learning together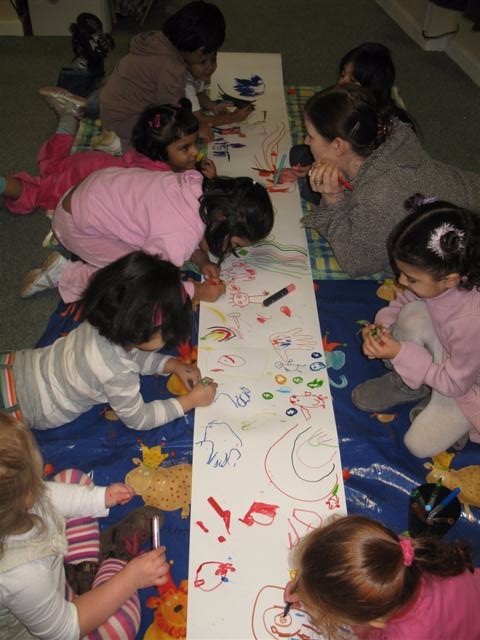 Children's Progress
A Teacher or Key worker will be responsible for monitoring and assessing your child in a small group. They are always available to answer any queries you may have concerning your child at Nursery School.
In the Autumn and Spring term, we will invite you to discuss your child's progress and for you to view your child's 'Learning Journey'.
A 'Learning Journey' is a special book which records your child's achievements over the past year and will be given to you at the end of the school year in July.
The Nursery staff consistently provide outstanding teaching, care, guidance and support along
with a very practical curriculum. Although the majority of children start Nursery with levels of
development which are well below expected of their ages, they thrive in this excellent nurturing
environment, make rapid progress and most of all leave with skills expected of them.
Keeping your Children Safe Online